Strengthening Playa Grande School
In the month of July, the educational project began at Playa Grande School. Through academic tutoring and pedagogical support, it aims to enhance the academic performance of the 10 students in fourth, fifth, and sixth grades. This initiative is made possible with the support of the Leah family and the Playa Grande Sustainable Association (APGS).
Support provided to the students occurs in two stages. In the first stage, they receive pedagogical assistance to aid in the teaching and learning process with individualized explanations tailored to their educational needs. In the second stage, children who need to strengthen their knowledge are further supported on an individual basis through tutoring sessions, focusing on concepts in areas where they need the most improvement.

Playa Brasilito Education Project
The Playa Brasilito Education Project continues to grow, with the arrival of new members such as Raquel Aguilar, a professional in psychology. She visits the Center once a week to provide support and mental health assistance to the children and adults in the community.
The bi-monthly Women's Circle sessions have begun; it's a safe and supportive space for all the women in the community. For the first session, we were pleased to have 11 participants, and we hope that this group continues to expand.
Finally, the Brasilito School Band had its debut with two performances at different events in celebration of Independence Day. We congratulate more than 20 boys and girls for their outstanding musical performance.
We extend our gratitude to Casa Y Más store for their furniture donation to set up our psychology space, to ADI Brasilito for their support through the Community Training Center, where these services are provided to the community, to Good Vibes Rock School and its dedicated teachers, and to our entire team of willing volunteers for their collaboration.

Youth Group
Over the past three months, the group of teens continued their learning process in English, computer skills, arts classes, physical movement, and swimming.
They also assisted with a children's camp in the Paraíso community, where they were responsible for activities for the young attendees.
Regarding workshops of development, the youth group addressed topics such as eating disorders, body care, and abortion, in collaboration with nursing students from the Universidad Latina. Additionally, they worked on themes of group cohesion, emotional management, self-esteem, among other topics.
Thanks to the collaboration of the entire OceanLife team, the youth group had the opportunity to take part in four sea outings to learn about sharks, rays, and marine life in general. During these outings, they had the chance to observe a pair of whales, dolphins, and turtles, as well as listen to the sound of the whales in the Isla Plata area.
As part of the celebration of National Parks Day, there was a guided visit to the CIPANCI Refuge in Ortega, Santa Cruz, to learn about the biodiversity of the Tempisque River basins and the importance of environmental conservation.

Professional Training and Employability
From July to September, the Adult Professional Training program has launched 8 courses, including Air Conditioning Maintenance, Gel X Nails, and Food Handling, conducted by CEPIA teachers and volunteers. Additionally, two computer groups were provided by the National Institute of Learning (INA).
Over these three months, a total of 9 courses have concluded. It fills us with pride and satisfaction to witness the achievements of our students, who have reached them with great effort and sacrifice.
In the area of Employability, our WhatsApp group has 82 affiliated members. In this group, both the Program Coordinator and active participants share job openings in the area. From January to September this year, 27 community members have participated in personalized resume sessions.
We extend our gratitude to the donors and volunteers for being a fundamental part of the program. Special mention to John & Donna Sommer, Ted Alexander, Richard Ramírez, Shirley Carrillo, Linnea Husser, Karen Sheppard, Francesca Sheppard, Tracey Fowler, Lavonne Blanco, and the Degaris family. Our great admiration for the dedication and effort of CEPIA volunteers and INA teachers.
Lastly, we want to express our appreciation to the organizations and businesses that have made the program's actions possible over the past three months: Huacas Integral Development Association, Lexis Language School, and Tamarindo Church.

Children's Daycare Center (CIDAI)
At the Comprehensive Daycare Center, 107 minors are attended to daily, receiving care, music, sports, and healthcare with a holistic approach from 7 am to 4 pm. This program is subsidized thanks to governmental support from IMAS and PANI, recognizing the importance of safeguarding the best interests of minors.
In July, the Day of the Annexation of Nicoya was celebrated, a very important date for Guanacaste, as the people willingly joined Costa Rica. The 107 children and adolescents actively participated in this grand celebration, with dances and traditional music, Los Independientes.
In August, we celebrated the mothers of the children with gifts, created with love by the children.
In September, the children and adolescents celebrated a very special day for each of them, the International Day of the Child, promoting their well-being and rights, which represent the future of our society. In this month, they also took part in the Independence Day parade in the Huacas community, where they marched in celebration of a free and independent country. There were 30 minors participating, including 10 children who formed the band, diligently rehearsing in advance and demonstrating great performance.
It's important to express our gratitude to the program's teachers who accompany all the minors every day: Karla Marín in charge of the youth group, Joselyn Mendoza overseeing Primary 2, Natasha Guerrero and Heiling Larios in charge of Primary 1, Graciela Gómez and Ana Laura Zelaya in charge of early childhood, Mary Paz Gutierrez in charge of preschool, and the special teachers Belquis Gutierrez for sports, Micaela Ribeiro for body expression, and Psychologist Eleana Alcocer. Thank you to each one and everyone of you!

Psychology and Holistic Health
Psychological services are offered to minors from the 27 coastal communities, with a focus on psychoeducation through group therapy. This approach has impacted 15 adolescents, addressing topics such as emotion management and anxiety. Over the past few months, 30 new minors, along with their families, received assistance.
The most common reasons for seeking help in this population were conduct disorders (20 individuals), depressive symptoms (5 individuals), grief (2 individuals), and other reasons (4 individuals). Conduct disorders were the most prevalent issue, highlighting the need to address topics like positive discipline for parents or caregivers through group therapy, providing tools for nurturing children with love and respect.
The adult psychology project provided group therapy focusing on anxiety and offered positive discipline workshops. Individual therapy sessions for adults were available from Monday to Saturday.
It's important to note that if you require psychological assistance, live in the coastal area of Santa Cruz, and are unable to afford private treatment, you can send a message to request placement on the waiting list: 89330503.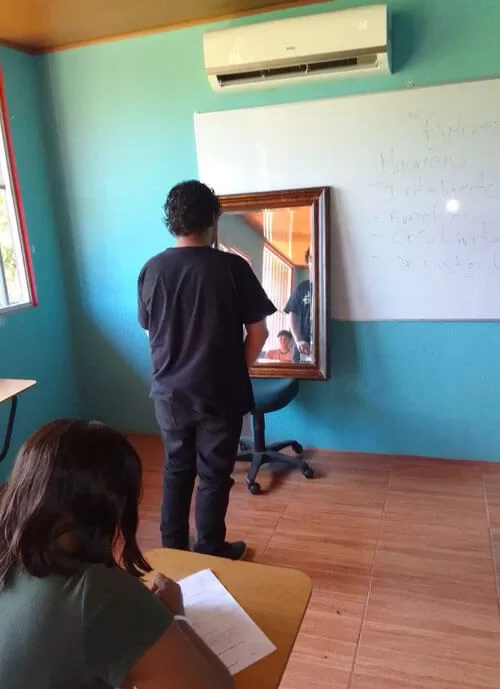 Currently, three high-risk young individuals with suicidal behavior have been referred to the Local Instance for Integral Management of Suicidal Risk (ILAIS from CCSS). As a result, safe spaces for these young individuals are being provided in group therapy sessions focusing on anxiety and emotion management at CEPIA.
Twelve neurodevelopment reports have been generated in the clinical psychology area for different diagnoses and possible interventions. These requests for referrals came from various educational centers in CEPIA's influence area and economically disadvantaged parents. Three of these individuals have been referred to the Girasoles project, which provides support to children with special needs and a safe space for growth in various areas.
Impact: Pre-tests and post-tests were conducted on a sample of 6 minors using the external psychology service. Upon starting therapy, they had an average mood rating of 6.3, which significantly improved to 9.5 by the end of their therapy. This indicates an improvement or progress in the area of mood as a result of their therapy.
Feedback from young individuals and parents regarding therapeutic progress and care:
– "I've seen an improvement in class; they sleep well, I see them in a better mood and behavior. Now, they go to school happier."
– "I am grateful to the psychologist and the institution for the excellent care."
– "She feels more secure as she processes the loss of her father."
– "She is more open in expressing what she doesn't like."

Psychology within the CIDAI Program
Ten mothers participate in group therapy sessions focused on positive discipline. They have worked under the motto "raising with love," which has allowed them to find tools to replace shouting, physical punishment, and harsh discipline with dialogue, listening, and love. The goal is to achieve effective and affectionate parenting without the need for rewards and punishments, fostering a strong yet kind connection with their children. As it is a group therapy model, participants have been able to heal their relationships with their parents and their own childhoods. These mothers have found a space to express themselves and gain a different perspective on respectful and loving parenting.
Through workshops attended by 17 young children (ages 2 to 4) in early childhood, their awareness of their intimate body parts, care, value, and respect for these parts has been strengthened. This is a strategy that also serves to prevent sexual abuse.
Additionally, a group therapy space is offered to adolescents with techniques for managing anxiety, conscious breathing, emotional management and control, self-love, and self-esteem.
We express our gratitude to Volunteer Carolyn Herman for her contributions to the Comprehensive Daycare Center, CIDAI.
Furthermore, 30 children from CIDAI have participated in the "Leaving Traces" program, aiming to identify the origins of disruptive behaviors towards animals that manifest in children. This program focuses on primary intervention for such behaviors, using interaction with animals as a tool to establish lines of intervention to re-socialize behavior. The goal is to create violence-free spaces that strengthen the culture of peace through education.
It's important to note that during the first semester of 2023, a total of 91 minors have received crisis intervention, brief psychotherapy, systemic family therapy, and assessment interviews as part of the program. The primary reasons for seeking help include conduct disorders (28 minors), depressive symptoms (12 minors), hypersexualized behavior (7 minors), grief (5 minors), as well as psychodiagnostic assessment, family conflicts, dissociative symptoms, and 28 assessment interviews for program admission to CIDAI.
Extracurricular Classes
S4Y – Surf for Youth
The Surf 4 Youth team participated in the Super Groms Championship 2023 in Playa Guiones. We congratulate the competitors Dixon Rosales Bismark, Gal Bepmale, Valeska Montoya, and Aron Gutiérrez for their participation. A special acknowledgement goes to their teacher, Juan Carlos Naranjo, for his excellent support to the team.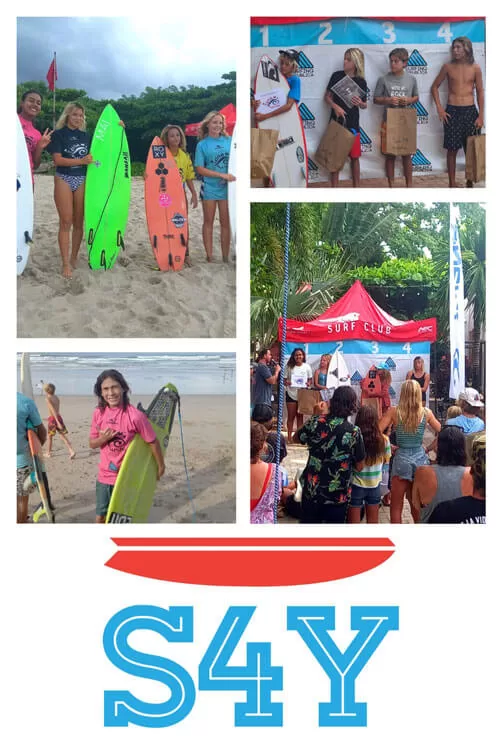 Soccer
Celebrating the 2nd Anniversary of the Blue Tsunami School, the boys and girls enjoyed an amazing morning filled with games and soccer. We express our gratitude to the academy for providing scholarships to the children in the community, allowing them to come together weekly for training sessions.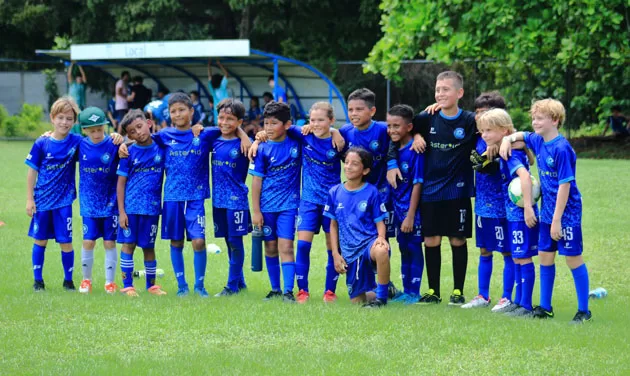 Swimming Lessons
The boys and girls from the communities of Villarreal, Brasilito, Huacas, Cartagena, and El Bejuco continue to enjoy their weekly swimming classes. We are very happy to see their progress. We express our gratitude to Vamos Youth, Leo Almanza, Andrea Mena, and Connect Ocean for all the support provided.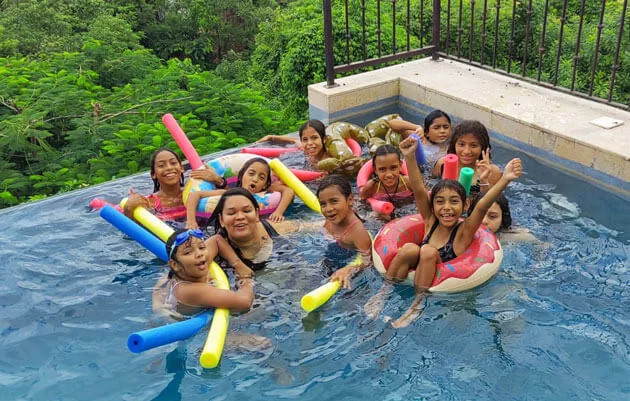 Successful Girls' Club
We continue to provide learning and educational tools for girls from various communities near the coastal area of Santa Cruz.
In the month of August, the project expanded to new communities, including Playa Grande, Cartagena, and Matapalo. This has provided an opportunity for an additional 42 girls in vulnerable situations to receive socio-educational workshops on female empowerment.
Important topics such as assertive communication were covered, teaching the girls the significance of communicating with respect towards the people around them.
Among the recent topics discussed, the importance of saving stands out. The girls created notebooks called "Wish Notebooks" where they have the opportunity to design notebooks that allow them to write down their savings goals.
In September, the Girls' Club in the Brasilito community concluded with a beautiful outing to Flamingo. We extend our thanks to Melanie Engel for hosting the girls, who enjoyed a morning by the pool and a delicious snack.

I Am the Answer
Reaching 200 children from 7 communities in the province of Santa Cruz, including Playa Grande, Matapalo, La Garita, Cartagena, Linderos, El Llanito, and Brasilito, the "I Am the Answer" program by CEPIA in collaboration with the GAIA Foundation of Costa Rica aims to educate 200 second-grade children aged 7 to 9 in the development of conscious, healthy, and sustainable habits.
In this module on Sustainable Living (III), the children learn about environmental education, how to reduce their ecological footprint, and commit to being Guardians of the planet by signing the Peace and Well-being Mother Earth Agreement.
The children from the El Llanito and Linderos schools had the pleasure of taking a walk through the labyrinth of La Senda, enjoying their class and a delicious snack. We express our gratitude to La Senda for hosting us.

Body Expression
Every Tuesday, the children and young individuals in the CIDAI program participate in a creative movement proposal through body expression and dance. In each session, they share different experiences, where the body is engaged in various activities that enhance creativity, exploration, and research by the children and young individuals. They also develop various methodologies related to body expression and dance, encouraging group and collaborative work.
During each session, various activities are shared and addressed, such as exploring the body's relationship with space, body awareness, body care, emotional and sensory exploration, imitation and reproduction of elements from nature, animals, geometry, and dances like hip-hop and contemporary dance.
The intention of these activities is to nurture the expressive side of each CIDAI student, complementing, enhancing, and reinforcing important aspects of their development through bodily experiences. This approach supports a creative learning process where cognitive and physical aspects merge.
This proposal has been well-received by the children and young individuals in the program. In each session, significant progress can be observed in the students, as they create beautiful experiences of bodily encounters together.

Vida Mujer Project
The Vida Mujer Project had a very successful clinic in Huacas, Santa Cruz, on Sunday, October 1st, at the Health and Beauty Clinic. The clinic was conducted by gynecologist Dr. María Fernanda Murilla and supported by four volunteers.
We extend our gratitude to all the participants, volunteers, the doctor, and Dr. Villalobos for providing the space for the event. Congratulations to the 15 women who now have access to safe and long-term contraception.

Women's Empowerment
Women's Circle
The women in the Circle continue their journey together, each sharing their individual processes.
Throughout the year, the Circle aligns its movements with the changing seasons, following the five stations of the Northern Hemisphere. They began with winter, moved through spring, and this quarter, they are working on the transition from summer to autumn. During this time, the focus has been on highlighting the beauty in giving and receiving actions. This quarter, which includes the month of August, also symbolizes giving and receiving in motherhood. It's an opportunity to identify how socialization and patriarchy have led to imbalances in this relationship when it comes to motherhood.
We resumed discussions about domestic violence, how to seek help, and how to report cases if anyone knows of them. We also celebrated motherhood with a special recreational activity.
With the arrival of autumn in the Northern Hemisphere, we focused on letting go of what doesn't belong to us—those situations that weigh us down and that we want to leave behind in order to be more present in the here and now, to feel freer and lighter. These sessions involve a lot of work with women's bodies, emotional management, and improving communication using movement and music as tools.
We also worked on the mind-body connection through art therapy, using exercises for artistic expression to promote mental health and emotional well-being. It was an enriching space for releasing tension, anxiety, feelings of sadness, and for connecting with creativity. Approximately 20 to 25 women participate in each workshop.
We extend our gratitude to those who have contributed to this process: Eleana Alcocer, Claudia Angulo, Larissa Granda, and Michelle Mclauf.

Entrepreneurial Women
We initiated a new business training process for female entrepreneurs, strengthening the initiative of providing them with a non-reimbursable financial incentive through the partnership with the DonorSee platform. We are able to do this thanks to the support of volunteers Zelma Larios, Pablo Vega, and Arianna Viquez.
We began with a baseline assessment to understand each of the entrepreneurial ventures and their current stage of development. We also discussed what a business plan is, what is needed to develop one, and delved into the details of each venture, where they want to take it, what they are doing well, what needs improvement, and what they are willing to do.
Based on this diagnosis, a proposal emerged to develop a three-phase process:
Soft Skills: The first phase will focus on soft skills (self-esteem, self-confidence, negotiation, responsibility, risk management), accounting techniques (costing, income and expense control), and virtual marketing (social media management). We will also support those who do not yet have the Food Handling course to obtain it through CEPIA.
Business Advisory: The second phase will provide business advisory support.
Access to Economic Resources: The third phase aims to facilitate access to economic resources.
Currently, 15 women are participating in this process.

Strengthening Vulnerable Families
For several months, efforts have been made to assess and include families in vulnerable conditions who have approached CEPIA seeking assistance. The goal is to offer them better support for their needs. Volunteers and CEPIA staff have visited and worked in various communities within the association's coverage area, reaching over 100 families. They have provided immediate assistance with necessities like clothing, footwear, and food.
We would also like to express our gratitude to the group of Israeli women who donated 336 pairs of shoes to CEPIA. These have been distributed among the female population we serve.
OUR SPONSORS
Whale Donors / Donantes Ballenas
Redekop Family Endowment
BOMBA Huacas
Las Ventanas de Playa Grande
Rocketgenius
Todd & Mary Heistand Family Foundation
Troper Wojcicki Foundation
Gig Kaplan
Reserva Conchal
Jon & Lisa Reichlin
Jodi Gallant & Stuart Sheldon
John & Donna Sommer
Julie & Jeff Jumonville
FRAME projects
Mar Vista
Bart Van Vooren
Martyn & Debi Hoffmann
Daley Family Fund
Patricia Diak
Ted Alexander
Arlene Kahn
Pavel and Kimberly Oliva Charitable Fund
Mariposa Homes
Huifen & Kirk Dunn
VOLO foundation
Automercado
Marlin del Rey
SYNLAW
Hyde Park School
NA Morris Family Charitable Foundation
The Palmer Company
Charleen Jordan
Roberth Smith
James & Jean Scheman
Cathy Maucourant
David Toupin
George Peter Rose
Jacques Meunier
Junta de Protección Social, IMAS, PANI
Thank you SHARKS!
Nick, Jorge & Nicholas Alers, Bella Vida, Super MASSAI, Hotel Gilded Iguana Nosara, JSM Santa Rosa, Jeffrey Christo, Brad Cooper, Tabitha Cromer, Bruce Reinhart, Marsha Brinson, William Willis, Geldstuck Robert Januikt, Ocean surf and Sun Reality, John & Qing Zhao Roberts, Don & Wendy Bulmer, John Scheman, Austin Community Foundation, Laura Ledbetter, Linnea & John Hauser, Mark Beamish, Sheila Ross, Sidney Keay, Aqueduct Foundation, Martin Salermo.
We also thank:
Practice Sports Inc, Access Electrical Contractors Inc, Justin Keltner, Fidelity Charitable Gift Fund, My Abdellah Alaoui, Chandra Champion,Deida Runswick, Elliot Frost, Robert Perkins, Nicholas Lane, Walter Alonso Martin, 11th graders La Paz Community School, Universidad Georgia,SPG Holding Corporation, Ruth Silva Guevara, Diane Goulden, Stephanie Lippens, Casey Simmons, Good Vibes Rock School, Donna Mitchell, Jessica Edmundson, Elevate Movement Studio.
Thank you for your material donations:
Jenifer Dizgun, Clop Michelle, Ava Jacobs, Hunter Jacobs, Gregory Petin, Janina Rodriguez, Jacqueline Vanderzanden, Agustin Lamas, Erica Mullen, Tori Leslie, Damaris Hernandez, Emilia Castro, Rachelle Escaravage, Witchs Rock, Casey Simmons, Anne Roberts, Antonio Zavala, Karen Melissa Guadamuz Valerin, Stefano Schietti, Aya Atan, Tania Hueso Gutierrez, Xinia Ocampo Chavez, Ana Live Zelaya, Mario Rances, Maria Paula Brenes, CCIS, Serena Maurer, Kimberly Chavez Guillen, Juliette Andriw, Marianela Solano Quiros, Tammy Gills, Elizabeth Sandoval, Monica Hernandez, Ricardo Farina, Heylin Larios Fonseca, Julio Aguilar, Wendy Valverde, Gabriela Garbanzo, Noé, Bernie Remy, Ana Lorena Baltonado, Colleen Henson, Tanya Papuga, Jason Abernathi, Jhon Duncan, Fabiola Gomez Rojas, Yanina Rodriguez, Andrea Pizago, Adrian Cruz B, Alenjandro Meza, Willfrou Blanco, Yulie Trejos, Aya Natan, Danielle Hollander, Marcela Hernandez Cordero, Colleen Henson, Jasmine Bertschy, Vale Monti, Caren Viviana Arce Marin, Petra Schoep, Ruth Antonia Paz Cruz, Yanina Rodriguez, Yerlin Guido Apa, Juliana Castro Rios, Storni Swart, Kristin Craig, Mai Phillits, Stephanie Gough, Kryz Chacon, Giselle Andea Leon Cortez, Jasmine Bertschy, Sherlyn Hernandez Perez, Karol Trejos Ramirez, Jose Antonio Lopez M, Edgar Andres Fernandez, Ingrid Vallejos Gonzales.