March 8th – International Women's Day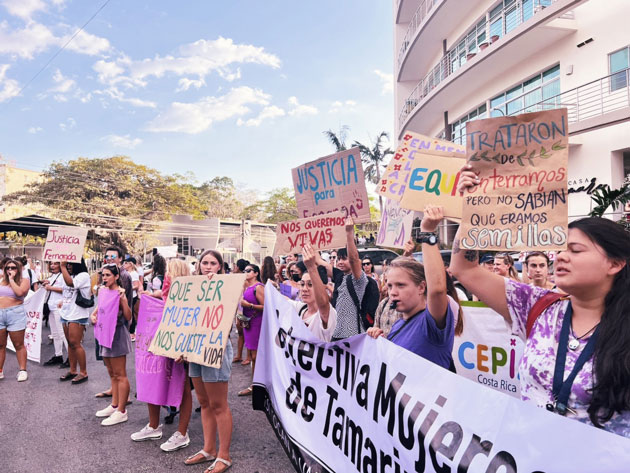 On March 8th 2022, Tamarindo's Women's Group (Colectiva Mujeres de Tamarindo) and ADI Tamarindo organized a beautiful event commemorating International Women's Day, due to the recent rise in sexual abuse in the Tamarindo area and coastal communities. Since last November, we have been working on developing different actions to organize ourselves and combat sexual violence against women. On this day, in addition to the march through the center of Tamarindo we did the following: held a fair of stalls with crafts, artistic shows, derationed menstrual cups, and distributed whistles with instructions, as a protection measure when experiencing any situation of risk.


We had around 150 people participate in this event to raise awareness on the issue of gender violence and address the issue as a community.

Sound therapy at CEPIA
Sound therapy is one of the alternative techniques we carry out at CEPIA thanks to our volunteer Vesna Todorovic. The healing action of sounds is something real for children, adolescents, and staff. Once a week, the different groups can enjoy this experience and work on anxiety, sleep disorders, hyperactivity and impulsiveness among others.

Women's Circle: New meetings for personal growth
During the first trimester of 2022, we continued building sisterhood between around 30 women who meet every 15 days to receive training on different topics and also practical activities where women share their knowledge and also anecdotes about their lives and experiences, which allows the development of empathy, support for each other and learning from each other's experiences. During this trimester we discussed the following topics: connecting with the inner child, the voice of women, connecting with the force of empowerment, DIY makeup Workshop, and Art-therapy for female creativity.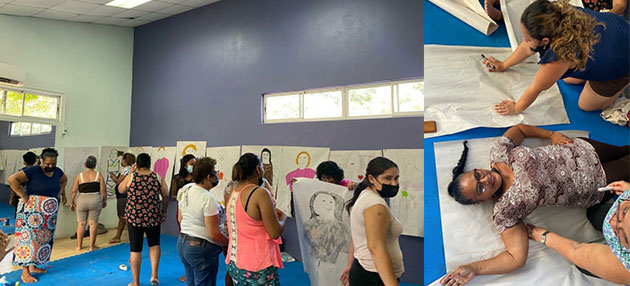 Justina's testimony: "Being a part of the Women's Circle has been a very important part of my life. I was battling severe depression, and I was even on psychiatric medication. When I joined the Women's Circle I felt a shift in my life. I feel safer, I feel free from my thoughts, and decisions. I have learned to cope with my feelings of sadness, to manage my anger, and my feelings of hatred. Being a part of the Women's Circle, I feel free, and the best thing is that people around me are noticing the shifts in my attitude, now I can express myself with more joy, enthusiasm and security. People tell me "What a huge difference!" I have grown and developed emotionally in ways that I did not expect, which is very good for me. I have discovered things I did not know about myself, what it's like to feel strong, to feel that I can pull through, and that I am capable. I have been building on this in each workshop. I feel free, safe and capable of achieving my goals."

Children with Special Needs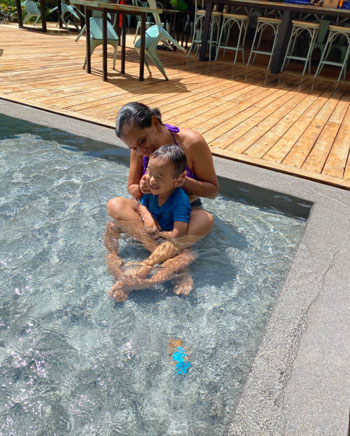 During the months of January, February and March we had fun activities for the children of CEPIA with special needs, Girasol (The Sunflower) group. The Girasol group had music classes twice a month, a special art class, and a beach or pool day once a month.
Our volunteer, Kelle Rich, provided assistance to mothers who need help tackling specific tasks with their children and made recommendations. Thank you, Kelly Rich!
We also had a special event for the mothers of the children in our group to give them some well-deserved "me" time. They had pedicures, a special lunch and time to socialize by the pool at a private home in Las Catalinas. Thank you, Huifen Dunn, for this beautiful day!

Extracurricular classes


The after-school classes program serves a list of 959 children and teenagers, who benefit from different recreational, sports, and educational classes that promote values, physical and mental well-being, and social cohesion.
A new after-school class has started in the community of Veintisiete-de-Abril. The team's mission is "teaching how to play and enjoy in a fun and innovative way that stimulates each child in the community to stay away from all the bad habits (vices) that surround us", says coach and volunteer Yorhany Pizarro López. We congratulate and thank Yorhany for this beautiful work.
In the month of March, 2 new girls' clubs have started activities in the schools of the communities of Veintisiete-de-Abril and Pinilla. The girls and principals are very happy to have this kind of clubs in their schools. On March 26, we held the graduation of a girls' club. We thank Best Western Tamarindo Vista Villas Hotel for hosting us!


The music classes have started in the new music classroom at the Community Center, thanks to Good Vibes School and volunteer teacher Greivin Ocampo.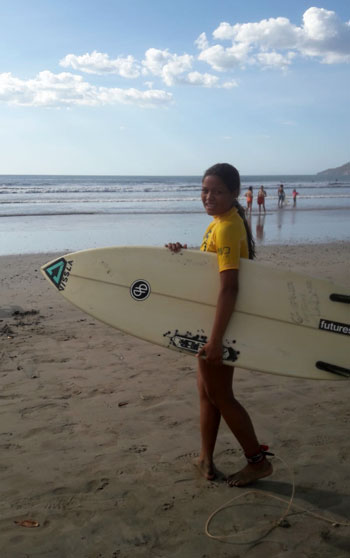 The Surf 4 Youth team was present at the Sun Bum competition, in which teenager Emily Gutierrez won third place!

"I AM THE ANSWER" IN GUANACASTE!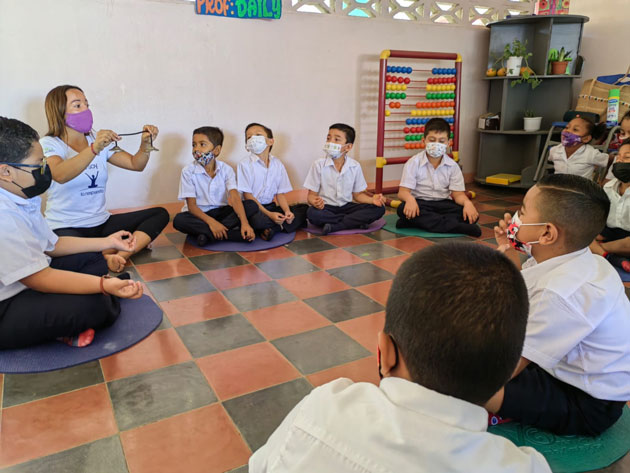 Thanks to the alliance between the GAIA Foundation of Costa Rica and the CEPIA Association, the program "I AM THE ANSWER" (YO SOY LA RESPUESTA) reaches Guanacaste public schools for the first time. I AM THE ANSWER is an education program on wellness and climate change through Gaia Yoga, endorsed by the United Nations Organization and the Ministry of Public Education of Costa Rica. The program uses yoga and meditation tools to promote a conscious, healthy and sustainable life, in harmony with nature.
The program was carried out last year as an online pilot project at CEPIA, due to the pandemic, but now in 2022 it is carried out in person at 10 schools in the province of Guanacaste, reaching at this stage 249 second grade children, with the help of educators Wendy Abarca and Priscila Arias and the volunteer support of Erika Araya and Marilu Caravaca.

Psychological care for minors from the communities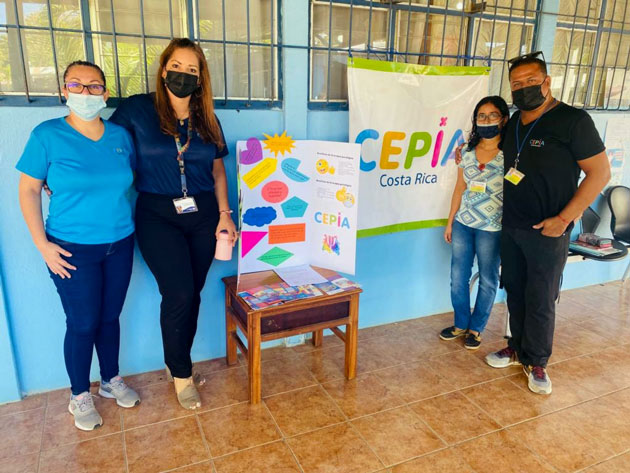 For the months of January, February and March, we have recorded the following information in external care (Coastal communities within CEPIA's area of ​​influence).
64 minors (PME – personas menores de edad) attended in the first trimester
43 minors (PME) – 11 in 2021 and 32 in 2022 as active cases in March
14 minors (PME) – on the waiting list in March
1 reference was made to the CCSS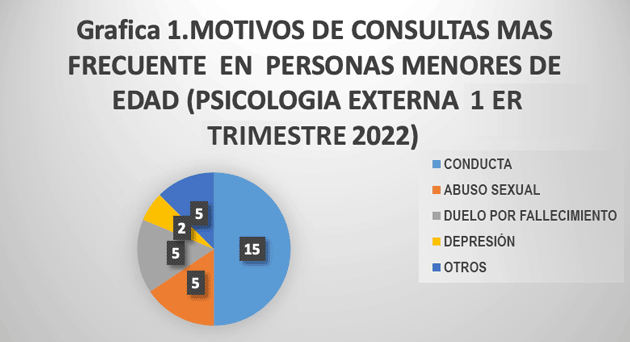 Graph 1. Shows that the most frequent reason for a consult in the first trimester of 2022 was behavioral disorders (total of 16), sexual abuse (total of 5) and grief after death of a loved one (total of 5). In the cases of sexual abuse, it is important to mention that a complaint is filed with the Court, evidencing the commitment and responsibility that parents have taken in the process; for this graph, there was a total of 33 new psychological cases sampled in 2022.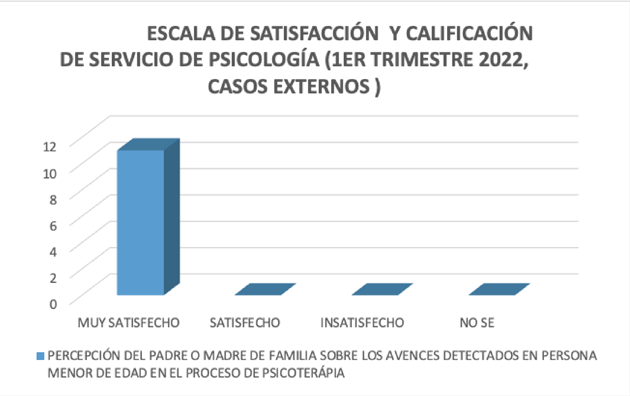 Graph 2. Shows some comments regarding the psychological attention given, which was measured through a survey parents received at the end of the process (first trimester of 2022). The satisfaction rate was high. A total of 10 surveys were sampled for this graph.
Below are some comments on the therapeutic process rating sheet, once completed and completed by their parents or persons in charge.
– "The attention was amazing with both my daughter and I"
– "I enjoyed being helped from the staff, they are excellent"
– "I loved the attention and affection they had with my child"
– "My son was treated with great love and care by the staff and their attention and follow-up have helped with my son's behavior and he has evolved in a very positive way, I am very satisfied"
– "I liked the professionalism and humanity"
– "The attention is very good"
– "My daughter's anxiety has decreased and she has been able to sleep more at night"
– "I liked everything"
– "I liked all the attention they gave my daughter"

Psychological care for children and young people in the CIDAI program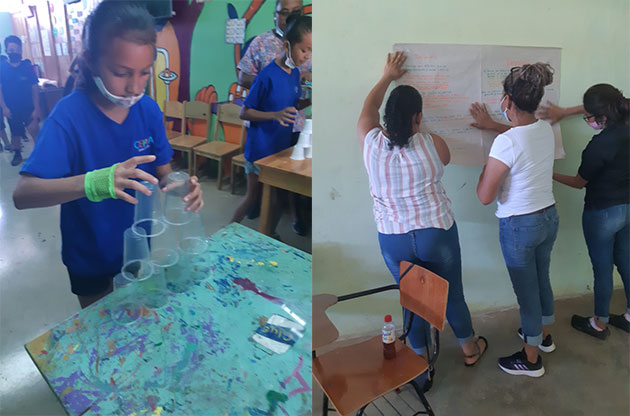 40 minors (PME – personas menores de edad) attended in the first trimester in the internal psychological care of the CIDAI program (Children's Comprehensive Day Care Center).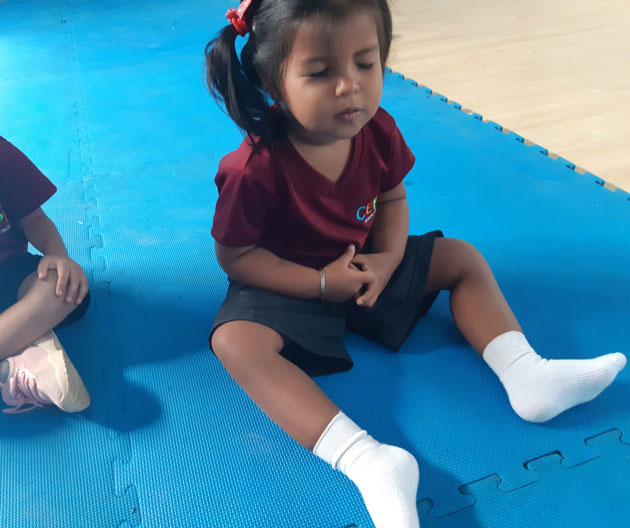 Workshops and talks were also held.
The two elementary groups took part in a workshop about identifying emotions, and one workshop about healthy coexistence and bullying prevention in coordination and collaboration with social worker Juan Carlos Gómez. The preschool group took part in one workshop on identifying emotion, the early childhood group took part in a workshop about signs of affection, and the youth group took part the decision-making workshop in collaboration with psychologist Mauricio Rodríguez. Parents took part in one workshop on positive discipline given by psychologist Patricia León.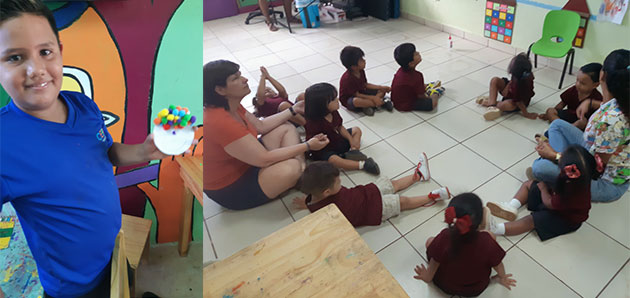 CIDAI (Children's Comprehensive Day Care Center)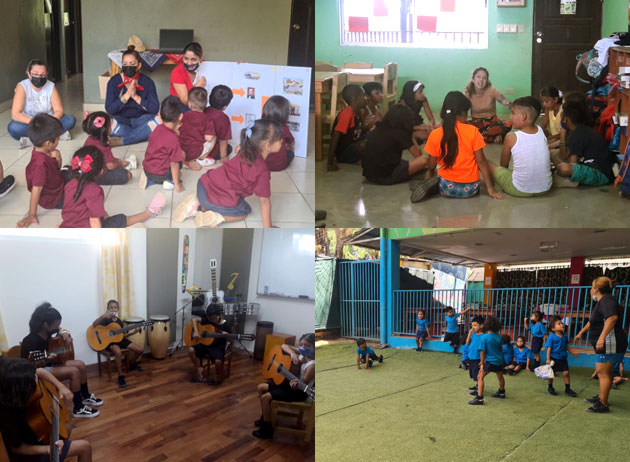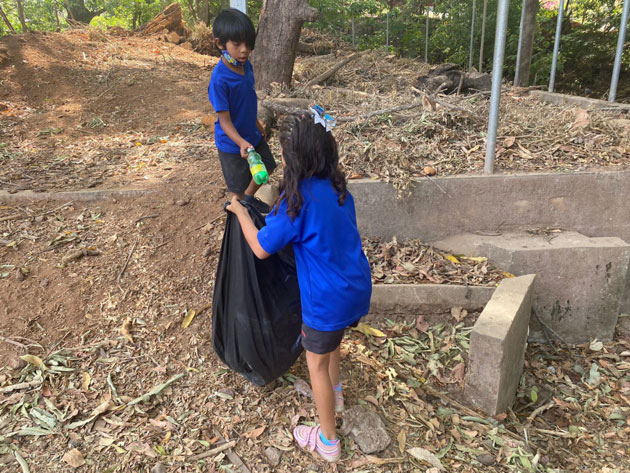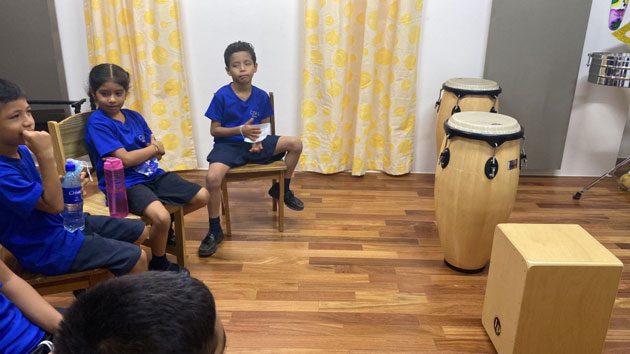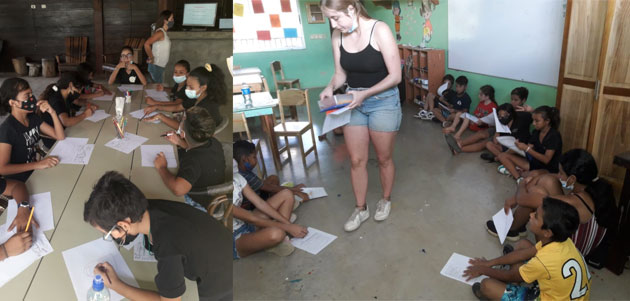 During this beginning of the trimester, we returned 100% to face-to-face meetings with all the minors of the day care center.
We had 111 minors, divided into 5 groups, ages 2 to 17, who partake in sports, academics and music every day.
In the month of January, we held the graduation of year 2021, where 12 youths left the program. These students are all attend high school in 2022.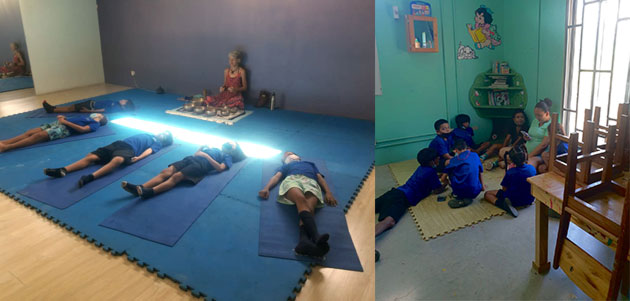 In February, we started the period of adjustment for the new groups. We had 10 new entries in the early childhood group, and it has been a challenge for these 2-year-old, but we received them with much love and patience.
We had 4 meetings with the mothers or fathers of the 111 minors, participation was 100%, where we explained the CEPIA methodology and the strategies that are going to be used during year 2022.
The different groups participated in the cleanup campaigns in the Huacas community where the center is located, creating awareness of the importance of a clean planet.
During the month of March, the children participated in the Women's International Day. The boys and girls made posters, which were used in the march that was scheduled in Tamarindo with Tamarindo's Women's Group (Colectiva de Mujeres de Tamarindo).
In addition, Asembis began free eye-sight screening and free eyewear manufacturing, attending 36 children.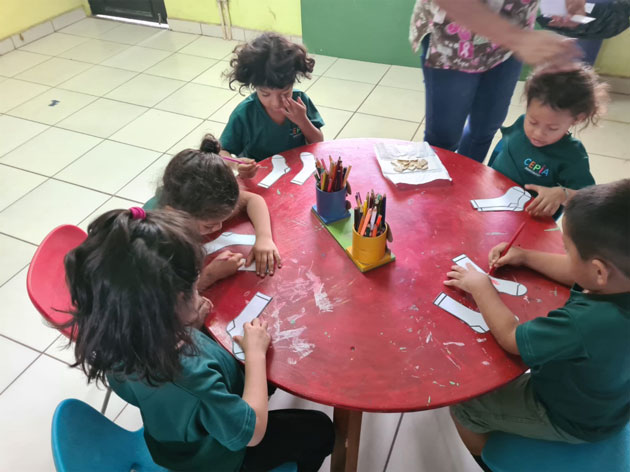 Overcoming these three months of challenges, learning and new knowledge for each of the boys and girls of the CIDAI program, they told us: "We love coming to CEPIA, we enjoy every day we spend with our colleagues".
We thank our volunteers and students Natacha Desmet, Piet Brüger, Miet Moermans and Maxine Demeter for their support.

Youth group
During the months of January, February and March we resumed the weekly classes, thanks to the collaboration of teachers Dimitri (English), Rodrigo Fonseca (music), Alejandra Parody (art), Belkis Gutiérrez (recreation and sports), and Karla Marín (computer classes, group dynamics, swimming and group coordinator).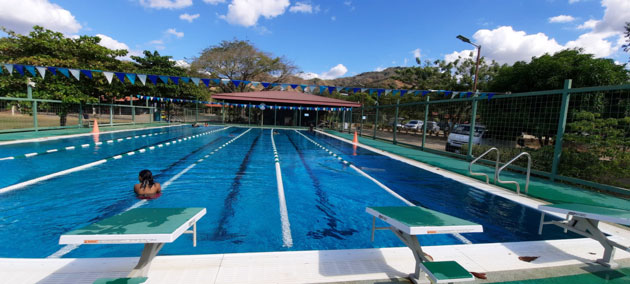 During the first month, we organized group bonding activities and spaces to share experiences among youth, this being an essential factor in the development of the group and the creation of the dynamics of the youth program. In the following months, minors focused their work on self-discovery.
We had the participation of The Santa Cruz Civic Center for Peace (Centro Civico Por La Paz de Santa Cruz) in the program: they conveyed messages about what trafficking is, and where have they identified risk factors and bringing awareness about the problem of human trafficking today. During the 7 sessions, the minors took part in playful activities, acquiring new knowledge about migration and related issues. The psychology department of CEPIA made it possible to organize the first workshop on decision-making and its importance in the development of everyone participating in the youth group, for which we are grateful.
Within the youth program, 13 workshops took place with topics such as emotions, team-work, conflict resolution, safe places, body language, self-perception, and artistic expression among others.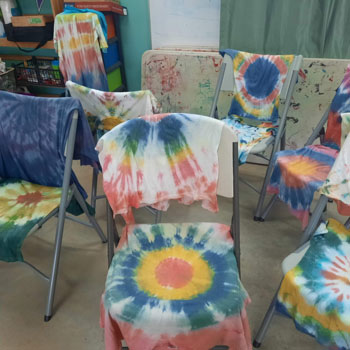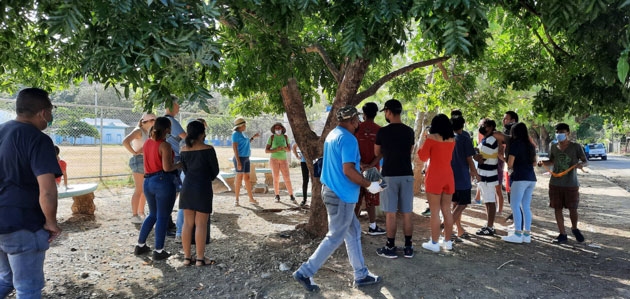 The following volunteers have participated: Courtney Borquet, who provided an opportunity for the women in the group to learn self-defense techniques, and Mariela Viales, an orientation professional who has collaborated in carrying out evaluations of the minors. We also counted on the support of Maxine Demeter for English classes and Graciela Gómez, for literacy support.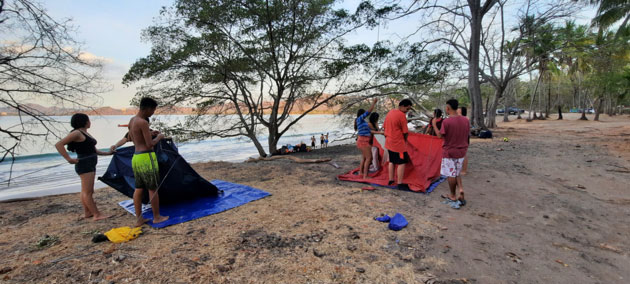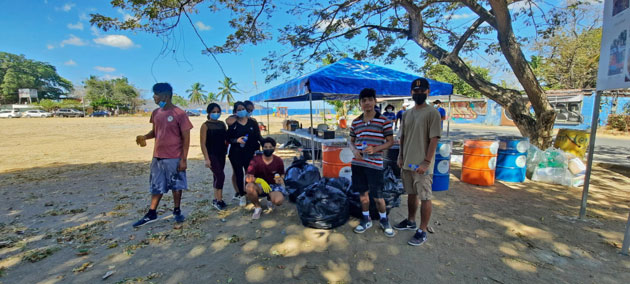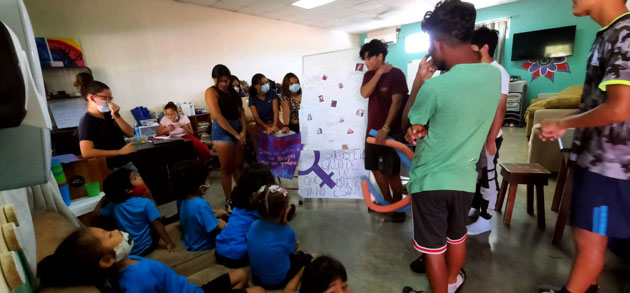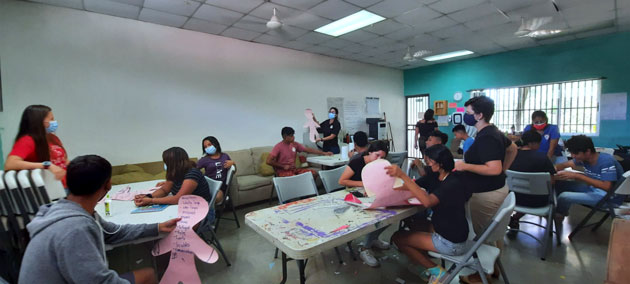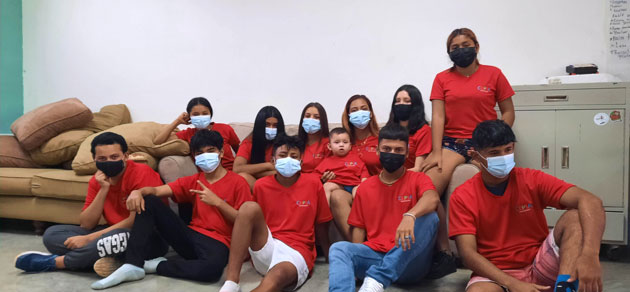 Lastly, the youngsters had the opportunity to actively participate in two clean-up campaigns in the Huacas and Brasilito areas, these being great spaces for environmental education. In addition, within the national celebration on March 20th, we organized a tour to the Santa Rosa National Park, in the Guanacaste Conservation Area, in order to learn about Costa Rican history and the celebration of this date.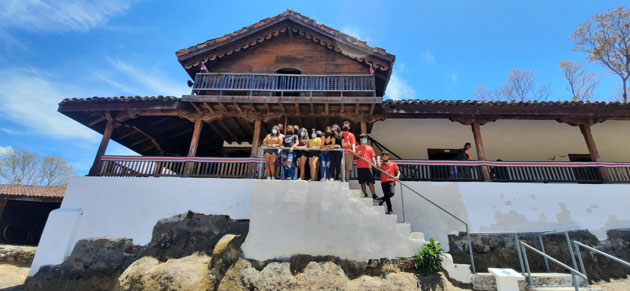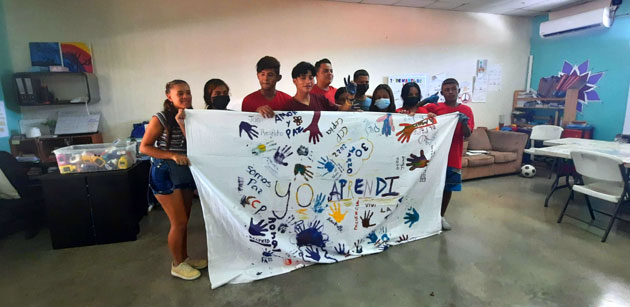 We also thank Anabelle Fonseca and La Paz School for their support.

Psychology for adults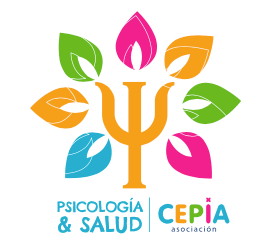 586 people requested appointments, out of which 284 people attended their appointments in this first trimester.
The reasons for consultation were: personal and family problems, depression, grief, stress, suicidal ideas, medical problems, and addiction among others.

Trainings
The year 2022 brings exciting news for the Vocational Training and Employability program. With an average of 12 to 15 persons contacting us daily to ask about courses and other employability services, the program maintains its progress as a reference for seeking support on employability issues in the area, thus promoting human talent and professional training in the communities.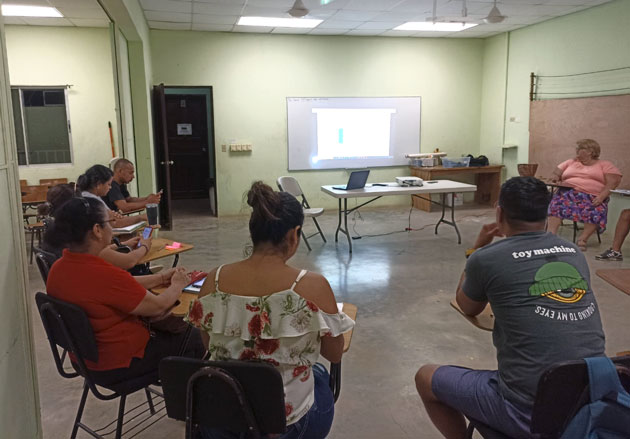 So far this year, we have opened 8 professional courses including: basic English, computers, basic onboard training, and air conditioning maintenance among others. More than 600 people have contacted us to enroll in one of the courses, out of which 214 were interviewed to participate. In total, 154 students have managed to start the training process, with a total of 60 men and 94 women. Also, 23 of these students have already completed their training.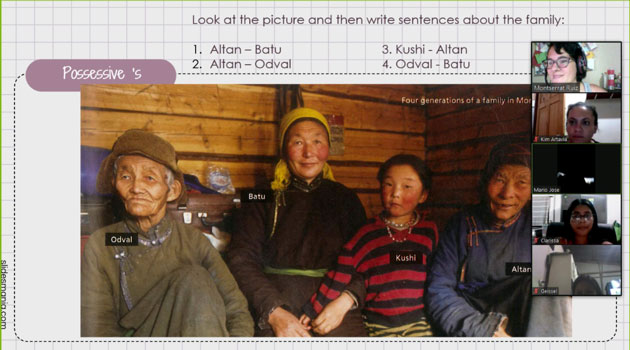 On the other hand, during the first 3 months of this year, CEPIA completed the process of becoming an Employment Office (the first NGO in the country), being now a part of the National Employment Agency, which opens up new and more effective ways to support people with trainings and job searching, as well as supporting companies in the area in their recruitment and selection processes. Also, within the area of ​​employability, we have assisted 25 people on issues related to their curriculum, job orientation and job search strategies. And in March we also started giving workshops on socio-emotional skills at work, called "Surfing the labor tides".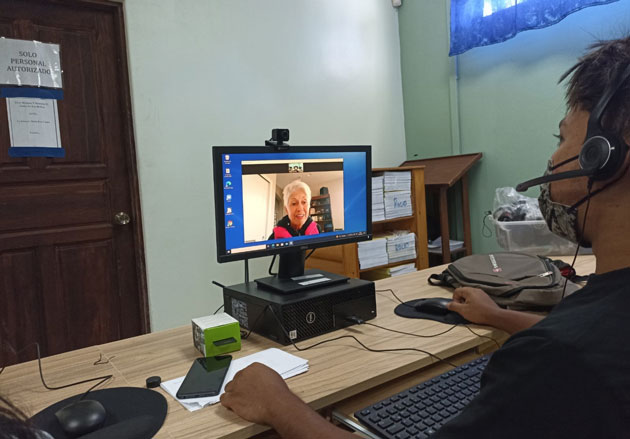 We thank the people and organizations that make it possible for this program to keep growing. Special thanks to volunteer English teachers Richard Ramírez, Montserrat Ruiz, and Linneah Hauser, donors John and Donna Sommer, John Blimke, and Rosetta Stone Company. On the other hand, we want to recognize the work of INA (National Institute for Learning), and its teachers and administrative staff, for their support and commitment in the area of ​​training.

Opening of the music school and the community mural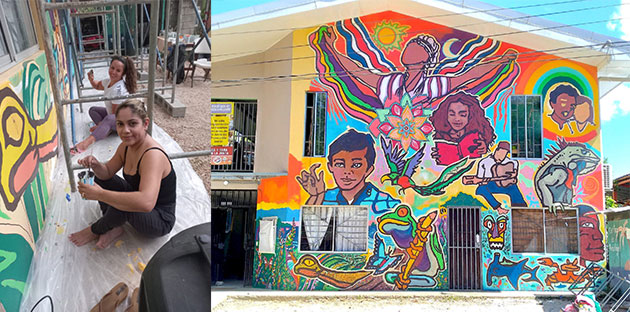 On January 25, we opened the new Music School in the CEPIA community center, benefiting children, youth, as well as adults in the coastal areas of ​​Santa Cruz. As special guests, we welcomed mayor Jorge Alfaro, the Director of Culture in Guanacaste Vera Vargas and local musicians Rodrigo Fonseca, and Luis Masis from the Good Vibes Music School.
Also, we presented the community mural, designed by the Peruvian-North American artist Mario Torero, who has a vast career as an international muralist, standing out in recent years in San Diego, California. He currently lives in Brasilito. Mario worked with different groups of boys, girls, youngsters and women to capture and share their look and colors.
The artistic expressions and cultural recovery are engraved in the name of CEPIA, and are fundamental pillars of working with the community. With the creation of this school, we are generating new opportunities for the population of Santa Cruz, that lies in a strategic area due to its proximity to the coast and main communication routes. The boys and girls concluded: "We really enjoyed painting the mural, we all gave a little of ourselves…".

Huacas Gas Station (Bomba Huacas)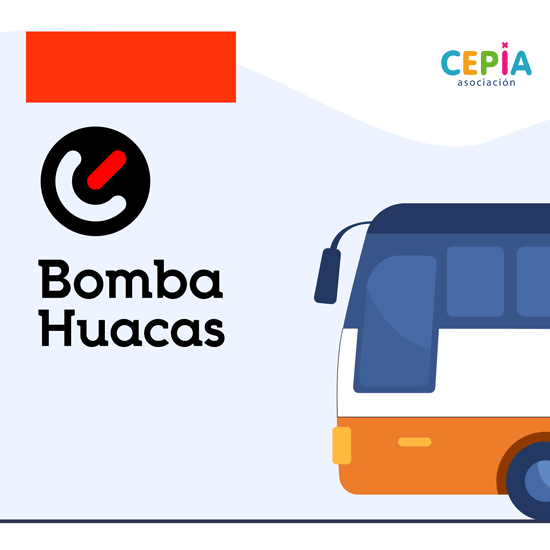 Thank you to the companies that believe in our project!
Boys and girls travelling happily!
#sponsors #donors #makeitpossible

Information Campaign at the Coldplay Concert
@CEPIA and Costa Rica Regenerativa – Regenerate Costa Rica were present at the #Coldplay concerts in Costa Rica. We provided information about the different programs that we are running.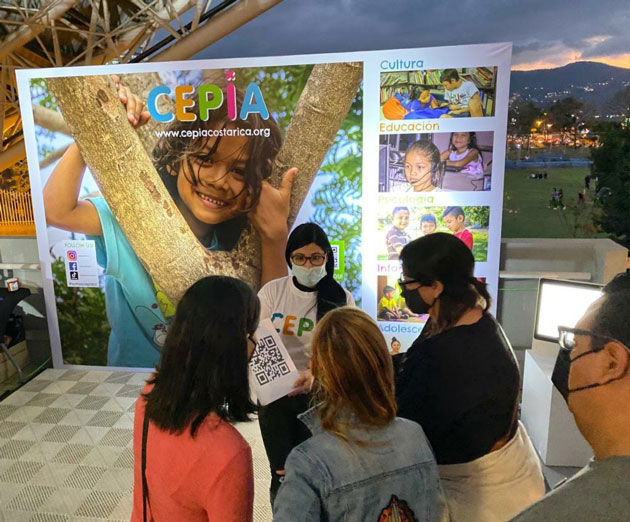 Be the change you want to see in the world!
Thanks to our donors!
Whale Donors
Wayne and Judith Kreklewich
The Tony Robbins Foundation
Las Ventanas de Playa Grande
Rocketgenius
Colette Cares
Nick Sondel
Todd & Mary Heistand Family Foundation
Troper Wojcicki Foundation
Kaplan family
Reserva Conchal
Jon & Lisa Reichlin
Jodi Gallant & Stuart Sheldon
John & Donna Sommer
Julie & Jeff Jumonville
FRAME projects
Mar Vista
Bart Van Vooren
Strachan Foundation
Bella Vida
Martyn & Debi Hoffmann
Fundación CRUSA
Daley Family Fund
Patricia Diak
Stephane Boivin
Ted Alexander
Arlene Kahn
Pavel and Kimberly Oliva Charitable Fund
Mariposa Homes
Jeffrey Christo
Huifen & Kirk Dunn
Junta de Protección Social, IMAS, PANI
Thank you SHARKS!
Jorge Alers, Luise Erdmann, Super MASSAI, Iguana Hotel, Nicole & Christian Huet, Rythmia Life Advancement Center, Iguana Hotel, Erez Yarkoni, Chris Mahne.
We also thank:
Maxine Demeter, Jim and Melinda Kanter, Jorge Leiva Rivas, Mollie Birer, Cheryl Aarsvold, Roberta Roper, Luc Aalmans, Carmit, Keren Poni, Yasmin, Steven, Schalig, Elizabeth Lamb, Greg Wagner, Robert Harrison, Guthmann Family Fund, Joe & Cyndy Yard Family Foundation, Brad Cooper, Bruce Reinhart, Daniel DeRemer, Ryan Schmid, Patricia Peck, Lawrence Kimmel, Maria Maes, Traverse Journeys, Jose Alberto Murillo, Wander World Travel, Catherine Paulson, Martin Salermo, Jacqueline Carsman, Carolina Agüero, Six Seven Tilaran, Vacasa, Ellen Zoe , Marie Balthazart, Wander World Travel, Jeffrey Wheathey, La Kitchen , Marjorie Sandi Alvarado, Maria Jose Cendeno , Daniels Carrol Schmidt, Wenceslao Medioroz, Sara Trimarchi, Mauro Camera, Simona Daniele, Martina Trimarchi, Marian Doshack, Joshua Jose Sandi.
Thanks for your material donations: ​​
Maruja Roldan, Elma Relihan, Nadia Boryseuko, Jade Reynols, Susan Fuhrtz, Witch´s rock surf camp, Elisa Saucier, Xyanna Bateau, Crista Niven, Jessica Rojas Jimenez, Karla soli Gomez, Valeria Giselle Gonzalez, Manfred Gomez, Melinda Kanter, Renata, Carla Rowlings, Paula Thompson, Janna Forsgren, John Hauser, Ronny Obando Zamora, Shannon Kraft, Yanina Rodriguez, Eleazar Boruch Abdalah Romero, Daniel Markus, Angilberto Hernandez, Belen Lois, Runia Angulo Viales, Narasha Arenilh, Leonardo Almanza, Eduardo Salas, Katty Quintard, Aya Natan, Carol Gardner, Cristina Luna, Mariela Jimenez Hidalgo, Kendol Peggi, Gilbert Cavalini, Marilu Caravaca , Kendleb Babe, Marcelo Garroux, Dana Elarte, Kristi Riley, Yane Rosales Arrieta, Ana Victoria Solano, Ann Thuesen, Lerna Detrinidad, Elian Rojas Villarreal, Michelle Machf Vargas, Anna Bans, Aliona Kushnarenko, Elisa Huet, Diane Sagrillo, Yoselin Daniela Alfaro Solano.
Follow Us!
New Group "Friends of CEPIA": https://www.facebook.com/groups/1624238844396009/
FB: cepiacostarica1
IG: cepia_costa_rica
www.cepiacostarica.org
#wearecepiacr
Be the change you want to see in the world!