Professional Training and Employability
The air conditioning repair and maintenance course ended in January, with the graduation of 14 people. We are grateful for the support of WE WORK, Hostel La Oveja Negra, Isaac Ledezma and John Sommer. CEPIA continues to offer English courses, yoga for adults and food handling courses. The electricity, waitress and sailor courses will be starting soon together with the National Apprenticeship Institute INA.
Since the end of March Juan Fonseca Burgalín, Psychologist is coordinating professional trainings and all those courses that promote and strengthen the employability of adults in the coastal area. We are also trying to strengthen and extend ties with different organizations and local companies, both private and public.
Over the years, CEPIA's commitment to the community has expanded to different areas and populations. Professional development in adult populations has been one of those areas where CEPIA has wanted to have an impact, recognizing that access to quality professional education and to decent work has a very positive impact on individuals and their well-being, but also on their families and our communities.
The development of technical courses and training for adults allow students to develop skills and professional practices that are very useful in the local labor market, as well as to get theoretical knowledge that supports professional work, having an impact on the motivation and confidence of those who complete the courses.
This new impulse will not only generate and make available relevant courses in the area, such as English, electricity, refrigeration, plumbing, sailor, etc., but also workshops that strengthen the employability of participants, either through the development of the so-called soft skills (communication, assertiveness, conflict management, stress management, etc.), or other key aspects such as to set up a CV with high impact or the preparation of job interviews.
Work is often part of a person's identity, of his or her sense of belonging, of his or her role in the society. In CEPIA we recognize and value all those efforts that seek to promote professional knowledge and all those skills that strengthen employability in the area. We would like to thank all the people who make possible the development of these projects, from the teachers who teach the classes, to the committed students who participate in the courses and trainings, the people who support the association through donations and the different institutions and companies that will have and have had an influence in CEPIA's training projects; thank you very much for the collaborative work that has been done and that is still to be done to continue improving the quality of life of people and families in Guanacaste.
PSYCHOLOGICAL ASSISTANCE FOR ADULTS. NEW EXPANDED SERVICE
The project "Psychology Assistance for Adults" continued and was promoted through a public campaign on social networks and e-mails to community associations and public institutions. A megaphoning was carried out in several communities of the Santa Cruz canton thanks to the NGO Voces Vitales.
This program receives currently great reception by the Guanacaste community and it is run by the health professionals Patricia Leon and Mauricio Rodriguez.
Link to their promotion video: shorturl.at/bfvIJ
105 people have been receiving psychological support in these three months, of which 88 are women and 17 are men of different nationalities: Costa Ricans: 76, Nicaraguans: 28, Argentina: 1.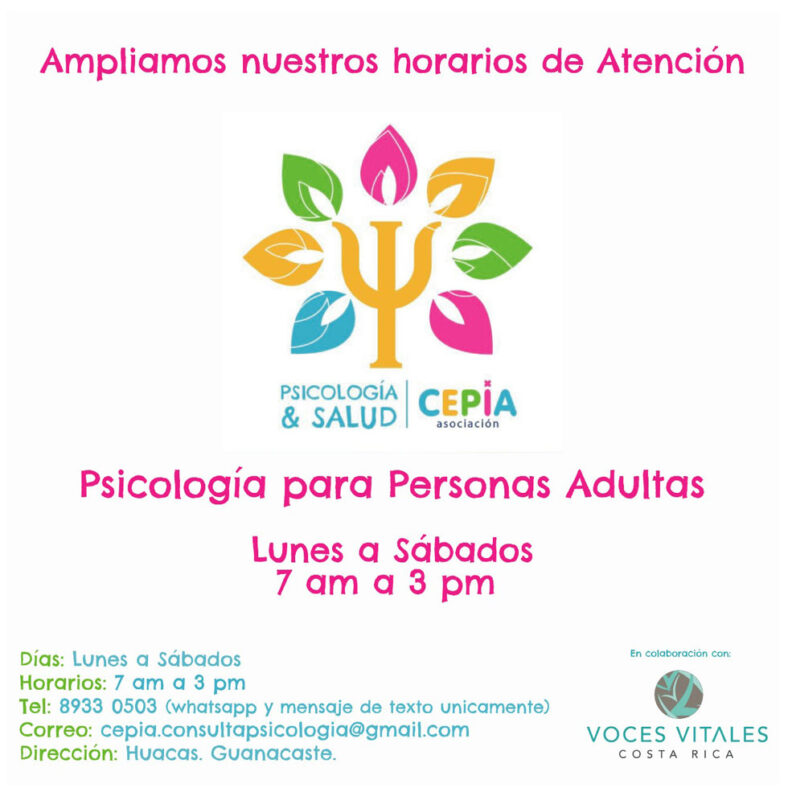 All 105 people have received at least one appointment and several of them have already received from 3 to 5 appointments. All are adults between 18 and 70 years of age, with various issues to be treated such as depression, grief, stress, violence and personal conflicts.
Testimonials:
Woman, 23 years old: "I have no one to leave my son with, he stays with me during the 12 working hours. I work in a soda."
Man, 40 years old: "Mourning for my son who drowned in the sea, the body has not yet been found. I am worried about my wife, she is very depressed".
Woman, 28 years old: "If I had known what was going to happen I would have gone with him and my daughter… when they let me see him there were 12 doctors and I don't know how many nurses. He was naked on the bed, one of his legs had been torn off, he had a hole like in his stomach and his testicles were missing, his eyes were bandaged and part of his head was burned. I cannot remove that image from my mind, when I think of him that is how I remember him".
Women's Empowerment Program:
During the first 3 months of this year, we started with new strength our processes with women in the communities. The biweekly meetings of the Women's Circle re-started, this year emphasizing the work from the body, the building of sisterhood and the strengthening of the group cohesion. Two art therapy workshops were held with Women's Circle thanks to our psychologist Claudia Angulo. We are pleased that new women have been integrated.
The volunteer women's committee also saw its personal and technical tools strengthened through a basic maid's course thanks to the collaboration of Hotel Reserva Conchal and a scholarship for a food handling course.
The women's committee project has a training curriculum that lasts one year and has the objective that women living in extreme poverty will leave strengthened and with new tools to face their economic and social growth. This group of women continues receiving a monthly donation of food to support as well as workshops for personal growth.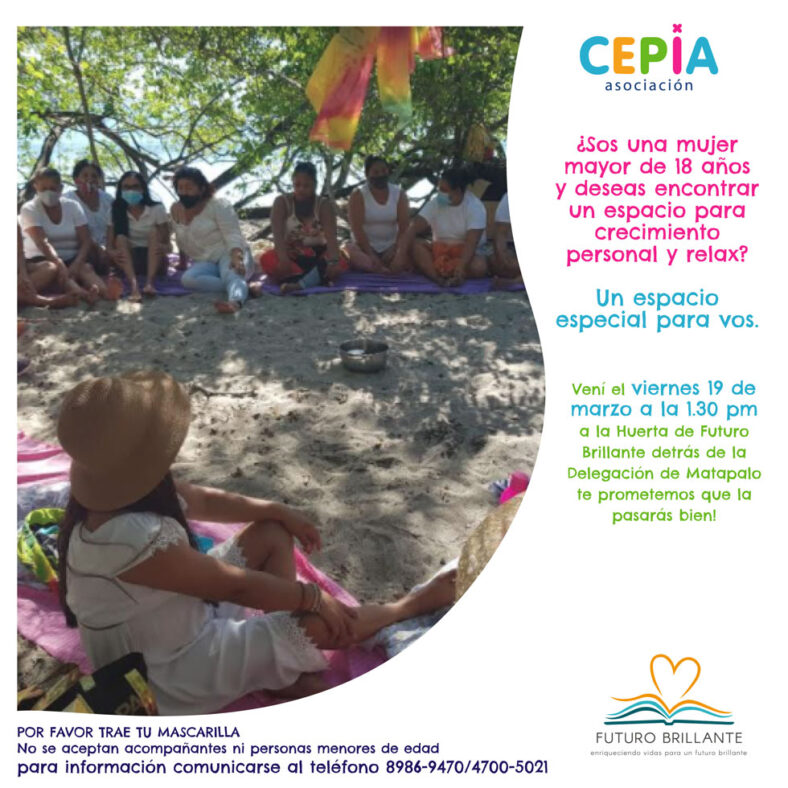 CLINICAL PSYCHOLOGY AND HEALTH
Ten preventive psycho-educational workshops have been offered to kids of the CIDAI program (ages 2-17) on topics such as recognition of emotions and self-control strategies, prevention of sexual abuse, sexuality and drug prevention. A team meeting was held with mothers who alleged domestic violence and neglect towards their kids.
A total of 80 people has received psychological care for children and their families, of which 48 cases are external and correspond to minors and their families from the community. Psychological assistance has been provided to a total of 32 minors in the CIDAI program.
The psychology department is also in charge of accompaniment and referrals: 4 reports have been made to the National Child Welfare Agency (PANI), 2 cases have been referred to the public health system (CCSS) and 4 home visits were referred to CEPIA's social worker Priscilla Arias.
A new counseling office was equipped with furniture thanks to the support of John Blimke.
CIDAI Program
The CIDAI program offers daily educational and psychological support, health, English, art and entertainment to a total of 108 children and teenagers. In January, with the help of volunteer Allison Berguin, the children of the Preschool group learned how to sow and take care of seeds and plants.
In February all groups carried out activities around the value of the month: Punctuality! In the primary school group, the clock is used as a symbol of punctuality. The day of love and friendship was celebrated with different handicrafts, and a trip was made to Tamarindo beach.
We continued with the Gaia Foundation the project "I Am The Answer", educating children about a conscious, healthy and balanced life.
The primary school group held a recycling notebook workshop. They learned to make small books with reusable material. Tamarindo beach was cleaned up, the children received a talk about the importance of not throwing garbage and collaborating with the planet by picking up garbage from the beach.
International Women's Day was celebrated march 8th. The boys and girls investigated and explained to others why this day is commemorated.
Four children between 10 and 12 years of age visited the Santa Cruz civic center to attend a storytelling workshop.
The battle of Santa Rosa was commemorated, and the house la Casona was made with recycled material, using energy and creativity.
The national sport day was also celebrated thanks to our sport teacher Belkis.
The preschool boys and girls went on a tour to Monkey Park, meeting the animals and learning how to take care of them.
The minors receive weekly a yoga workshop by volunteer Wendy Abarca and relaxation techniques to get centered and connect with their emotions and inner peace.
During these three months, the 108 minors received music lessons from Prof. Rodrigo Fonseca. In addition there were daily readings.
It was three months of challenges, learning new fields of knowledge for each of the boys and girls of the CIDAI program. One of their comments: "I love attending CEPIA, I enjoy every day with my classmates".
The CIDAI group is divided into four subgroups:
14 children in the Early Childhood group
21 in the Preschool group

53 in the Primary group

20 teenage people
This year the program started in person, keeping the protocols of the Ministry of Health: use of masks, constant hand washing, and measuring the corporal temperature.
The goal of the program is to promote the six processes of the comprehensive care model:
Care and development of autonomy.
Professional assistance.
Educational processes.
Health processes.
Recreational, cultural and artistic processes.
Articulation and networking process with the community.
Youth Group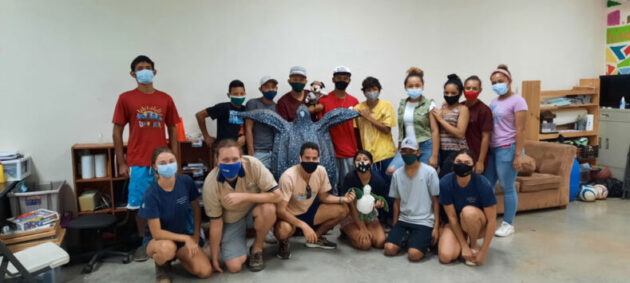 The 20 teenagers worked with the video "Piper" to discuss the theme of trust and to develop the concept of punctuality and its importance for life and work. 14 talks, film forums and workshops were offered during these three months, such as Sense of Belonging, Who am I? Leadership, World Religions, Family Tree, Important Women in Costa Rican Society, Environment, among others.
Some teens enrolled in primary school studies so that they can take their primary school exams. Computer Classes have been mainly developed to work with Excel, with the collaboration of volunteers Alex and Stephanie Lippens. English classes were offered thanks to teacher Dimitris. Meditation and yoga classes were offered with the collaboration of Laetitia Deweer, Priscilla Arias and Mariane Paniagua.
Art and music classes were held with Rodrigo Fonseca and Alejandra Parody. Alejandra guided them in the elaboration of mandalas on the walls of the center. Sports classes were held in order to improve physical conditioning as well as group cohesion with teacher Belquis Gutierrez. Swimming and water rescue activities were held thanks to volunteer Leo.
A beach cleanup of Langosta beach was held on February 12 and the young people received a talk about taking care of the sea by Simona Danielle.

NEWS from AFTERSCHOOL CLASSES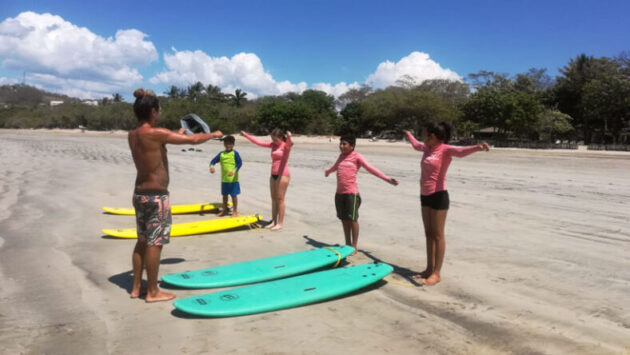 During the first 3 months of this year, beach cleanups were held to raise awareness among minors about the importance of taking care for the environment. A new girls' club was started in the community of San Francisco for the first time. There are girls' clubs in 8 communities!
Soccer activities were reactivated in Hatillo and Huacas with more than 60 participants. Swimming classes returned with great joy, making smiling faces, happy boys and girls waiting for their pool day with our volunteer Leonardo Almarzo. The surf group in Tamarindo beach is characterized by the discipline, continuity and positivism of each of the members of this beautiful teenagers group from the community of Villarreal thanks to volunteer Javier Ruin.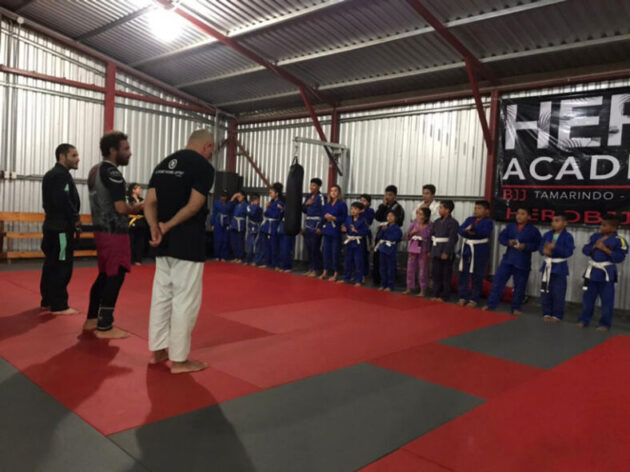 A new group to make handicrafts was opened with the aim of stimulating the creativity of children. The group was baptized with the name 'Dreaming Art' taught by volunteer Margoth Rodriguez.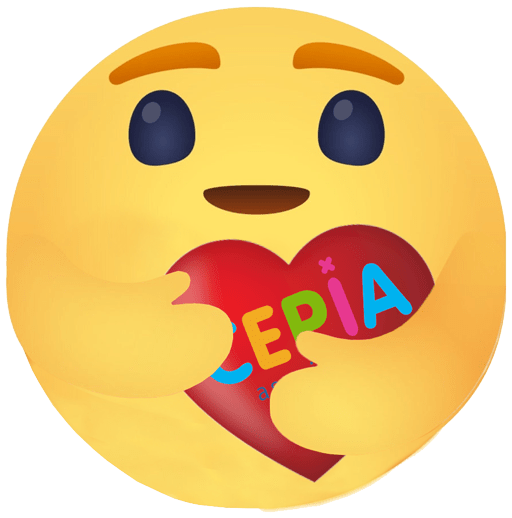 For a long time we had the presence of temporary volunteers that fulfilled their university work. We thank Marion Guillet, Flore Guigne from France, Carlota Jaus from Germany and Allison Berguin from USA for all their collaboration, love, dedication and dedicated time.
---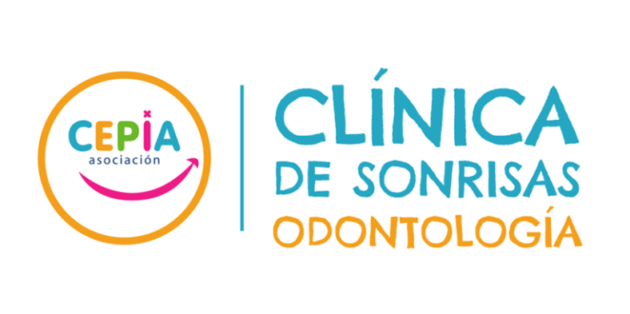 DENTAL CLINIC for kids
Odontologist Marcela Porras tells us about her new project for CEPIA kids.

Follow Us!
FB: cepiacostarica1
IG: cepia_costa_rica
www.cepiacostarica.org
A parent expresses her gratitude: Our children travel safely!
"Today I want to congratulate the drivers for their work and thanks to Alejandra for taking care of my Marianita every day on the way to CEPIA and back home. It's a huge responsibility and you do it very well!"
Thanks to our donors! (read below)
SPONSORS January, February and March 2021
Whale Donors
ROCKETGENIUS
Todd & Mary Heistand Family Foundation
Osteopathic Medical Asociation
Troper Wojcicki Foundation
John & Donna Sommer
Martyn & Debi Hoffmann
Curt & Lori Stasny
Bart Van Vooren
Jon & Lisa Reichlin
Strachan Foundation
Jeff & Julie Jumonville
Rudelman Family
Jan Johnson
Colleen & Chris Sullivan
Pura Vida Energy Systems
Stephane Boivin
CORIPORT
Pura Vida slings
Reserva Conchal
Tamarindo Surf Film festival
Bella Vida
Junta de Protección Social
IMAS
PANI
CRUSA
Thanks to our special donors:
Rosetta Stone
Paul Braithwaite
Laura Ledbetter
Bioestimulantes Agropecuarios
All for one foundation
TOYOTA Costa Rica
Robert August
We also thank:
Urban Bodyworks
Selwyn & associates
Manuel Espinoza
Brian Caceres
Jorge patiño
Giuseppe Trimarchi
Bryan Macktinger
Jacques Meunier
Eric & Mireille Besombes
Victoria Dumolard
Silvia Solima
Christine Schumann
Jacques De Liedekerke
Maes-De Keyzer
Flore Van Ryn
Dupont-Garbarski
Amelie Sailiez
Perier – Reiber
Immobilière Oostens & Quix
Ariane Lippens
Patrick Deweer
Julie Lippens
Michel Meunier
All For One Foundation
Daniel Floersheimer
Piers Fawkes
Jorge Alers
Roberta Roper
Andre Hamm
George Peter Rose
Sid Keay
Sean Gallagher
Teresa O'Brien
Robert Marsh
Joseph brodner
Paul Stafford
Bob Friedenson
Percy Smith
Ellen Zoe
Cross Holding
Luciano y Malu Leao
Cathy Maucourant
Adriana Echandi
Gloriana Serrano
Paola Molina
Inmobiliaria Genesis
Flavia Loeb
SUPER MASSAI
Travel Pioneers SRL
Lourdes Elena
Estero Paraiso
Ellen Hoeg
Christine Vandenhende
De Liedekerke -Verhaeghe
Brenda Brooke
Mar Vista Bodegas
Seis Playas hotel
Monkey Park
Ben Ziegler
Caterina Garcia
Molly Ruland
Thanks for your material donations!
Alexandra Dyattova, Matt Oberman, Ale Burns, Nadia Bonjsenko, Jhon Blimke, Elisa Saucier Bonilla, Marcela Hernandez , Sully DenBleyker, Janeth DenBleyker, Annie Corredor, Jose Francisco Mendez Vega, Fundacion Monkey Park Cultura Vida Natural, Sofia Frisa Binagh, Karol Trejos Ramirez, Jackie Meyer , Kristi Riley, Katerine Lefebure, Tania Huezo Gutierrez, Betina Del Rio
Your help creates the difference!